Frequently Asked Dumpster Questions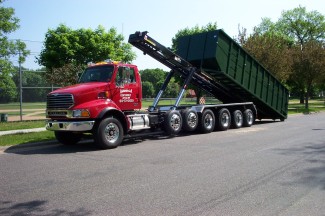 What is the difference between a long and regular length dumpster?
The difference is in how the dumpster fits in the driveway – the length and width is different.
How do I know what size dumpster I need?
First check out our Sizes page. Then ask yourself, how big is my pile of stuff? How many garage spots would it fill? When you have that estimate, contact us and we will help determine the right size for your project.
Do you have a way to cover the dumpster?
Yes, we do have covered dumpsters available.
How do I load my dumpster?
You load your dumpster how you would load a trash container: over the top. If you have additional questions, we would gladly answer your questions. Please call us at 612-721-2650.
What do I do with the dumpster now that it's in my driveway?
Start your project and dispose of any appropriate materials into the dumpster. For a list of acceptable materials, please click here.
Why is there a door on the dumpster?
The door is for our internal use, for cleaning and disposing of materials.
How can I use a dumpster?
A dumpster can be used by a homeowner or by a contractor for commercial use.
Homeowners can rent a dumpster to use during spring cleaning or home remodeling or any other project that needs additional trash or waste removal.
Contractors need dumpsters for most construction sites to properly dispose of scrap, debris and hazardous materials.
Why might I use a roll-off container rather than using my regular waste/trash service?
There are typically restrictions from your waste removal service of how much you can dispose of in any given week and what kind of material they will take without extra charge. See our Accepted and Non-Accepted Materials for more information.